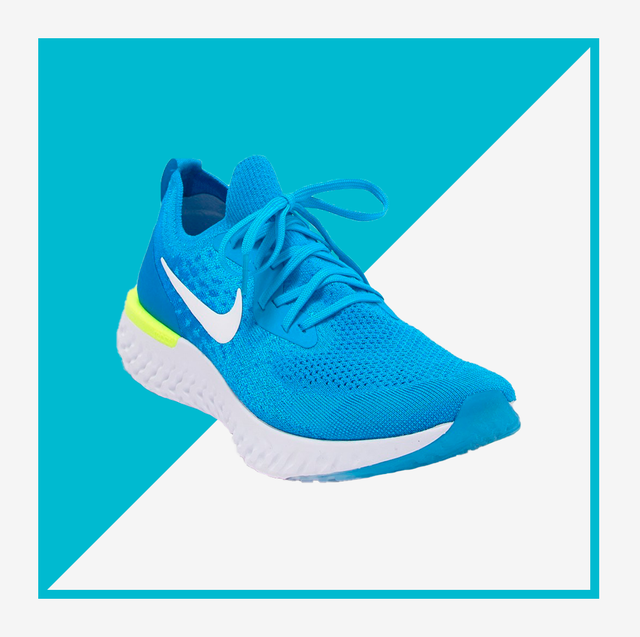 Nike
With the first day of summer just weeks away, there's a good chance you're itching to go outside. (We mean, nobody can pass up good weather.) Since your string of beach vacations and big cookouts have been put on hold, you might want to think about giving running a try. Not only is running a great way to get outside, but it can also improve your mood and sharpen your brain.
If you want to create a running routine—and actually stick to it—you'll need to pick up some shorts, comfortable sneakers, and moisture-wicking tops. Fortunately, Nordstrom Rack is offering up to 40% off Nike's beloved activewear and sneakers. Whether you're on the hunt for a new pair of shoes or an exercise top that polished enough to wear to your next Zoom meeting, Nike has everything you need for your next workout.
Since some sizes and colors are already running out of stock, we recommend shopping this secret sale sooner rather than later. To help, we're sharing the best deals worth your hard-earned bucks.
Advertisement – Continue Reading Below
Nike Epic React Flyknit Running Shoes
nordstromrack.com
$150.00
$86.97
If you're on the hunt for a comfortable pair of running sneakers, check out Nike's Epic React style. Cushy Nike React technology in the stabilizing sole is complemented by a snug fly-knit upper and breathable mesh vamp.
Nike Sportswear Heritage86 Adjustable Hat
nordstromrack.com
$25.00
$19.97
Protect your face from the sun's harsh rays with this stylish hat. Adorned with Nike's iconic slogan, this hat will double as motivation to actually go for a run.
Nike Dri-FIT 9″ Training Shorts
nordstromrack.com
$30.00
$23.97
Beat the heat in a pair of breezy shorts, which are made with Nike's signature Dri-FIT technology.
Nike Revolution 5 Sneakers
nordstromrack.com
$65.00
$49.97
Decked out with a soft midsole, this pair is great for both running laps and running errands.
Nike Flex Experience Running Shoes
nordstromrack.com
$65.00
$49.97
Want sneakers that will move with your feet instead of constricting your range of motion? Add this ultra-flexible pair to your cart.
Nike Dri-FIT Crew Training T-Shirt
nordstromrack.com
$25.00
$19.97
Found: A moisture-wicking top that's presentable enough to wear to your next video conference.
Nike Legend React 2 Running Shoes
nordstromrack.com
$100.00
$74.97
Consider the Legend React 2 shoes the perfect blend of form and function. Made with Nike's signature Flyknit mesh, this is one pair that's comfortable and looks good.
Nike Everyday Cushion Training Ankle Socks
nordstromrack.com
$14.00
$9.97
Go ahead, use this secret sale to stock up on the essentials. That's three pairs of socks for under $10!
Downshifter 9 Running Sneakers
Nike nordstromrack.com
$60.00
$46.97
Thanks to its breathable mesh upper, this pair of sneakers will keep your feet cool during a particularly grueling workout. (Or, you know, a heatwave.)
Nike Funnel Collar Hoodie Jacket
nordstromrack.com
$130.00
$74.97
Anyone who's planning to spend the summer with the AC on full-blast will get a lot of use out of this hoodie jacket.
This content is created and maintained by a third party, and imported onto this page to help users provide their email addresses. You may be able to find more information about this and similar content at piano.io
Advertisement – Continue Reading Below