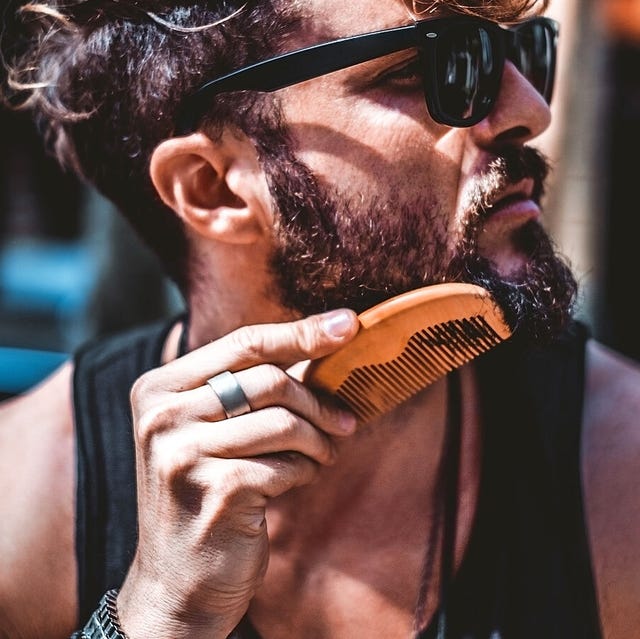 Getty; Velvet Noir
If you have a beard brush, do you really need to use a beard comb? The answer is probably yes. The question isn't whether a beard brush or a beard comb is better, it's how you can use both to give yourself the best looking and healthiest beard possible.
Is it Better to Use a Beard Comb or Beard Brush?
Think of your beard comb as a compliment to your beard brush. Coarse-bristle brushes help to physically exfoliate away dead skin cells on the skin underneath your whiskers and distribute protective oils and bead products through the entire length of the beard. Daily brushing can help your beard stay moisturized and the skin underneath healthy. Beard combs, on the other hand, are best for styling and controlling the shape of your beard. They also help detangle hairs, especially as they get longer, which makes a comb a must-have for longer beards that generally require a bit more effort to shape and smooth. And more than brushes, beard combs are portable, so you can easily take them with you to maintain the shape of your beard throughout the day.
How to Find the Best Beard Comb for You
What kind of beard comb is best for you depends mostly on personal preference. Professionals often recommend combs made out of wood, as they say they are gentler on long facial hair that may pull and snag easily and can sometimes help distribute product more easily than plastic counterparts. However, they can be heavy, so if you're looking for something more portable—or if you have a short beard—a plastic comb might be just up your alley. Wide tooth combs are generally recommended for thicker, coarser beard and fine tooth combs are better for thinner patches. Finding the best beard comb for you might take some trial and error, but the best place to start is this list.
Advertisement – Continue Reading Below
The Art of Shaving Sandalwood Beard Comb
Wood beard combs minimize pulling and snagging on coarse facial hair, which can be more difficult to detangle than the hair on your head. If you have thick or especially curly facial hair, a wide tooth comb will make combing it out even easier. Double-sides combs like this one are a classic—a bit bulkier, but good to have as your beard grows longer or if you have patches of different thicknesses to your beard.
Velvet Noir Peachwood Beard Comb
The benefit of single-sided combs is that they're usually smaller and more portable than they're double-sides brothers. This wood beard comb has narrow teeth, but the wood material still minimizes snags even on longer beards. Plus it's small enough to easily keep in our pocket or dopp kit.
Kent Beard Comb Setb
Kent beard combs are like the Rolls Royces of beard accoutrements. The brand has been making hair brushes for over 200 years and their signature, handmade beard combs are a status symbol among the bearded. Made of acetate, which they say causes fewer snags and pulling than plastic, go with the set of three so you'll never be without a comb no matter how long or short your beard is or where you are.
Badass Beard Care Wide Tooth Ox Horn Comb
If you're not a fan of bulkier wood, but feel like plastic is hard to run through your beard, allow us to introduce this comb, which is made from horn. It minimizes static, which plastic combs can sometimes cause, and still gives you the smooth feeling you want from plastic or acetate. The thick, wide teeth are similar to the kind found on wood combs but, the brand says, are a little stronger.
Parker Premium Rosewood Wide Tooth Beard Comb
If you find a larger, bulkier beard comb hard to control, look for something smaller but still effective. This wide tooth wood comb is shaped more like a pick, with a stubbier shape but long teeth, to offer increased control. It helps distribute oils and balms through facial hair easier than plastic and can also help detangle specific areas more easily.
Beardbrand Comb
Like double-sided wooden combs, this acetate beard comb has both wide and narrow teeth for smooth detangling and detail work. What we love about it most is that it comes in two sizes—large and pocket—so you can keep one in your bathroom and one in your briefcase so you're never caught with a wild beard.
NATURE BOY Wooden Beard Comb
natureboyproducts.com
$34.00
The innovative design of this bamboo and black walnut wood comb offers incredible control (thanks to finger holes that increase grip). The long narrow, wide teeth gently detangle even the thickest, curliest beards with ease and the optional fine teeth work on shorter beards as well.
This content is created and maintained by a third party, and imported onto this page to help users provide their email addresses. You may be able to find more information about this and similar content at piano.io
Advertisement – Continue Reading Below