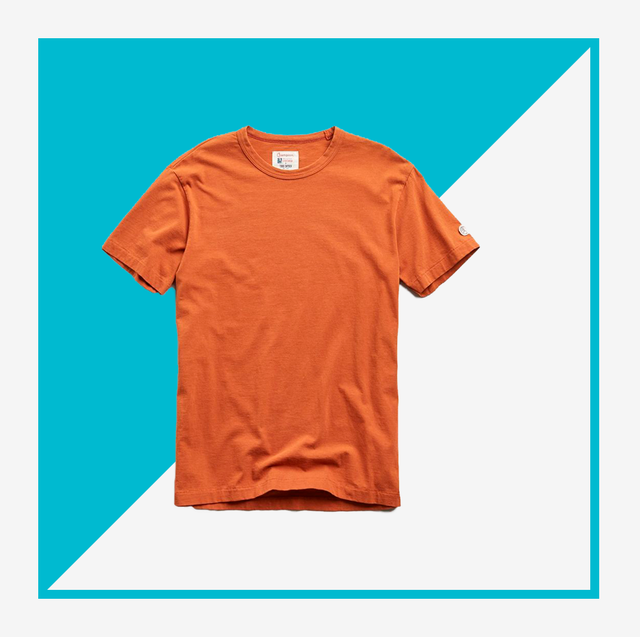 Assorted Retailers
T-shirts have taken what it means to be a wardrobe staple and leveled it up. And up and up and up. When wearing a suit all the time was the norm, wearing a T-shirt was the antithesis: relaxed, unconcerned with professionalism, and comfortable. But now that wearing a suit is a special occasion and not necessarily the everyday standard, T-shirts have become so much more than the post-work shirt of choice.
Now, there are quality T-shirts for every part of life that requires a shirt being worn. There are silky tees that go with suits, slubby tees that go with jeans, and pocket tees that go everywhere in between. There are T-shirts for sleeping, T-Shirts for running, and T-shirts for just hanging out.
Of course, with all of that variety, that means there are a lot of T-shirts to choose from. A lot. Because even once you have down where you're wearing your tee, you can change up the fabric blend (pique, slub, or stretch), the neckline (crew or V), the hemline (straight or curved), and the fit (tight, fitted, or oversized). Some tees are better fit for certain outfits and some work with 'em all.
So, we're helping you narrow it down. We picked the best T-shirt brands, which make the best T-shirts, and chose the best of the best from there. These options have range—color, price, and occasion—as should the T-shirt wardrobe you're about to bulid out. Here are the 30 best T-shirts for men to buy now for all occasions, including options from our favorite brands like Buck Mason, Everlane, Todd Snyder, and more.
Advertisement – Continue Reading Below
Best Overall Tee
Buck Mason Pima Curved Hem Tee
Buck Mason's T-shirts are the kind of shirts that will make even the biggest T-shirt skeptic say, "I didn't know T-shirts could be like this." It is expertly constructed and it actually lasts—a quality not easily attributed to tees.
Best V-Neck T-Shirt
Everlane The Tailored V-Neck T-Shirt
If you want to stock up on a bunch of tees of all colors and fits, Everlane is one of the best T-shirt brands for men. Go there for your everyday V-necks and crewnecks in your go-to colors. The shirts tend to last only a season, but we don't mind it if we've been sweating in it all summer, too.
Most Flattering T-Shirt
Lululemon 5 Year Basic Tee
Lululemon takes the cake for making the best-fitting and flattering T-shirts. This basic tee especially has just the right weight to make it feel like a real shirt and not something sloppy. This one is not a workout tee per say, but you can't go wrong with one of those options, either.
Best Budget T-Shirt
H&M Crewneck T-shirt
H&M is another great place to stock up, but you can come here for trendier pieces, too. Get a tee in a color you don't wear all the time or in that oversized fit you've been too scared to try.
Best Graphic T-Shirt
Rhythm So Pitted T-Shirt
T-shirts are also the best because you can have some fun with them. Loud graphic tees might be a little amateurish, but some simple graphics are welcome. Wear this one to and around the beach.
Best Moisture-Wicking T-Shirt
Outdoor Voices Sweatee T-Shirt
Outdoor Voices is a savior when it comes to tees that need to take on sweating, lounging, and running errands. This tee looks good doing all of them—and won't let on that you haven't showered yet.
Best New T-Shirt Brand
Cuts Clothing Curve Hem Tee
If you're always tugging at the hem of your shirts, consider looking at tees that change it up. Cuts Clothing makes a tee with a curved hem, so it'll sit nicely in the front and back without getting wedged up on the sides.
Best T-Shirt Collaboration
Todd Snyder + Champion Basic Jersey Tee
The Todd Snyder + Champion collaboration is the gift that keeps on giving, especially when you're shopping for the best-fitting T-shirts. These are super soft but not sloppy; they feel fitted but never clingy.
Best Heavyweight T-Shirt
Gap Easy Heavyweight T-Shirt
Hot top: Lightweight tees might sound nice and airy, but they also tend to be the kind of tees that wear thing easily or cling to places you'd rather they don't. Gap makes the best heavyweight T-shirts, which lay nice and flat and last much longer.
Best Boxy T-Shirt
AllSaints Musica Crew T-Shirt
Everything AllSaints makes is just plain cool, and its T-shirts are no different. The sleeves are a little longer, the fit a little boxier, and the overall aesthetic a little more rock-ish than your regular tee.
Best White T-Shirt
J.Crew Garment-dyed Slub T-shirt
Speaking of classics, J.Crew makes the best white T-shirts we know of. This slub pocket tee is classic for warmer months. Wear it with dark jeans, printed trunks, or under your favorite denim jacket.
Bes Pocket T-Shirt
Huckberry Pocket Tee
When it comes to building out the best T-shirt collection, make sure you have your classics locked down. This simple navy pocket tee will become your lifeline.
Best Luxury T-Shirt
Sunspel Classic Cotton T-Shirt
Like graphics, some T-shirt designs come in and out of style faster than you'd want to buy new tees for them. But the best T-shirts design? A simple navy and white stripe. Sunspel makes an expertly fitted one that is worth every last cent.
Best Workout T-Shirt
Tracksmith Van Cortlandt Tee
You'll need some tees you can sweat in, too, and Tracksmith makes the most intensely moisture-wicking shirt around. It is made for distance running, but it can also withstand your low-key jogs.
Best Eco-Friendly T-Shirt
Patagonia P-6 Logo Responsibili-Tee T-Shirt
You need a few long sleeve tees for certain occasions, and Patagonia's take is a classic. Wear it with shorts for cooler summer days or while hanging in your backyard.
Brooklinen Prospect Tee
Brooklinen is also branching into award-winning loungewear, and this tee is ideal for doing absolutely nothing in without feeling guilty about it. Hey, it's important to not feel sloppy even while doing nothing.
Rag & Bone Classic Base T-Shirt
When it comes to the best quality T-shirts brands out there, Rag & Bone is a perennial favorite. The basic tees are unchanging, just the way we like them. They don't lose their shape or wear thin around the armpits.
Bombas Pima Cotton Crew Neck T-Shirt
Bombas makes the single best socks of all time, but the brand isn't a one-hit wonder. It has since branched into loungewear, making a T-shirt that is equally perfect for lounging about.
ATM Tipped Piqué Crewneck Tee
ATM is another high-quality T-shirt brand worth investing in. Wear these tees when you could get away with wearing a shirt with buttons but aren't trying to. This tipped pique pick is about as fancy as a tee can get.
Sexiest T-Shirt
Tommy John Second Skin Moroccan Tee
You can never have enough white tees. Tommy John makes the silkiest loungewear, aptly naming this line "second skin." The notch in the neckline makes it feel a little different—and sexier—than all your other tees.
AE Super Soft Long-Sleeve Icon T-Shirt
American Eagle Outfitters makes some basics at extremely good prices that are also extremely comfortable, like this long-sleeve tee. It is super soft and comes in a range of colors. We're partial to pink to change it up.
Best T-Shirt to Wear With a Suit
Theory Essential Linen Stretch Marled Tee
bloomingdales.com
$115.00
Theory makes some high-quality T-shirts that are perfect alternatives to more dressed up shirts. Wear this with a suit, with your favorite jeans, or layered under a leather jacket.
Rhone Everyday Pima Cotton Tee
Rhone brought its signature SilverTech to this everyday tee, which means it'll swipe away stink faster than you can sweat it out. Wear this on hot days.
Softwear T-Shirt
Maybe you think you've felt softness before. Softwear tees are softer. They are made with siro modal and a little bit of spandex for the ultimate stretch. Wear this for next-level lounging.
Best Undershirt
Tani SilkCut Crew Shirt
If you're looking for a tee that can double as an undershirt, this Tani USA pick is it. It's super soft but form-fitting. Wear it under a sweater or all on its own.
Best Short-Sleeved Henley
Untuckit Baxter Henley
There's nothing quite like a bright henley for making any T-shirt collection feel a little more fun. This one from Untuckit is meant to hit just where you wouldn't have to… well, tuck it in.
Mack Weldon Pima Long Sleeve T-Shirt
If you've been sleeping on Mack Weldon, it's time to come to. The tees here are ideal for that "I might take a nap or I might go run errands" mood.
Goodlife Triblend Scallop Long Sleeve T-Shirt
If you're looking to level up your go-to tees, might we suggest doing so with Goodlife. They're a little pricier than your standard tee, but not too out there. Get one in your favorite color and sleeve length for testing.
The Men's Classic T-Shirt
bleusalt.com
$100.00
Lightweight T-shirts are hard to make well, and Bleusalt absolutely nailed it. This tee is airy and anti-microbial but far from too thin. Buy it and treasure it.
Velva Sheen Pigment Dyed Pocket Tee
endclothing.com
$65.00
You already know and love T-shirts, so they are the perfect vehicle to try out new details. This lavender, slightly oversized tee is the advanced way to pull off a simple T-shirt.
This content is created and maintained by a third party, and imported onto this page to help users provide their email addresses. You may be able to find more information about this and similar content at piano.io
Advertisement – Continue Reading Below