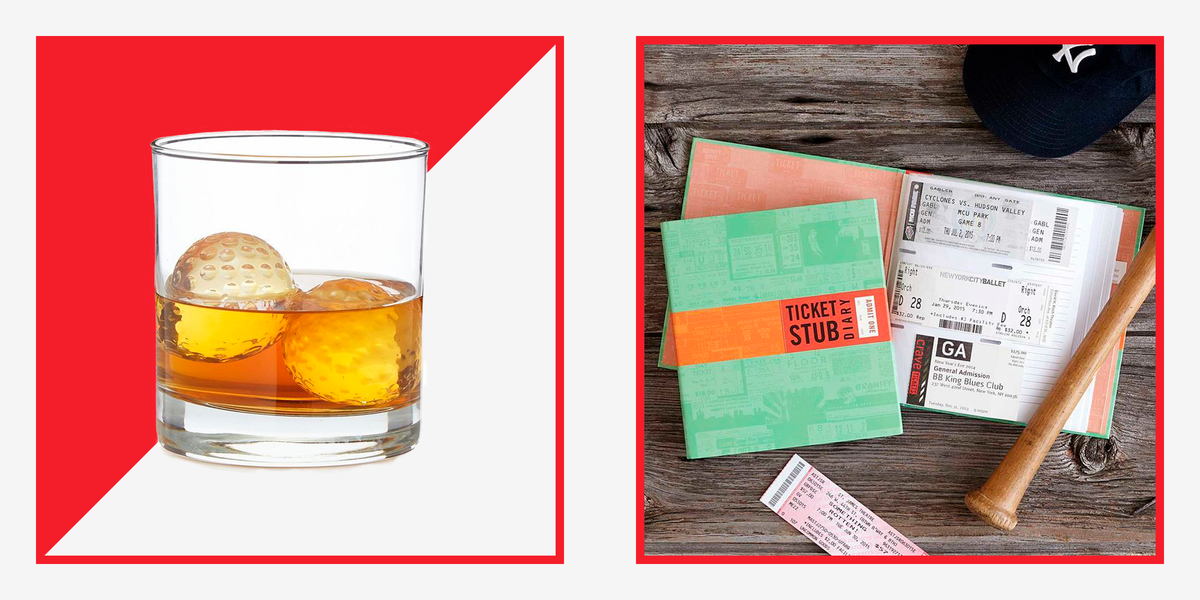 No matter how you cut it, America's pastime is none other than sports. Whether it be baseball, football, soccer or whatever sport you played in high school, chances are you know the ultimate sports fan, who can relay back their team's most famous players and wins during a particular season.
While it makes sense to get the ultimate sports fan a gift that relates to their passion, it's more thoughtful to think outside of the box and give them something that doesn't resemble a T-shirt with a team number on it. With plenty of sophisticated, and even useful, presents floating around on the internet, here are the 22 best gifts for sports fans to show how much you appreciate them.
Hockey Stick BBQ Set
Everyone likes a good barbecue, and the tools you use are essential. Made from repurposed hockey sticks, it's a perfect way to become the grilling winner.
Baseball Park Map Pint Glasses
If you're a true baseball fan, you know that your team's stadium holds just as much importance as the team itself. This set of pint glasses allow you to sip on your favorite beer while also seeing how much ground your team actually stands on.
Stadium Views 3D Stadium Picture Frame
A person's first ball game is always memorable—why not celebrate it with a picture of the stadium you went to? It's a keepsake that will last forever… even if the location doesn't.
Golf Ball Whiskey Chillers
We all enjoy a good cocktail on the rocks… but what if the rocks were shaped like golf balls?
Icon Negro League Baseball Pullover Hoodie
To celebrate the centennial of the Negro Baseball League, former MLB star CC Sabathia helped create a clothing collection to honor the legacy of those who played within the league. The best part? A portion of the sales will benefit the Negro Leagues Baseball Museum, which preserves and celebrates their history.
Playful Sports Mugs
Who says your sports fan can't play some sports while eating a bowl of cereal?
Streamlight Classic Boxing Bell
Streamlight
uncommongoods.com
$80.00
Whether you're hosting cooking competitions or just want to break up an argument about which MMA fighter won the match, this boxing bell is perfect.
NHL Game Used Hockey Stick Bottle Opener
uncommongoods.com
This bottle opener is made from authentic hockey sticks used in past hockey games, and each one is licensed by the NHL, with an authentication card inside. Who says your favorite game can't help you have a good time?
Home Plate Paperweight
A small way to have a piece of homeplate and words of inspiration from a baseball legend.
Pigeon Studios History of the Baseball Print
Baseball has gone through many phases… and many balls. This print is not only a way to learn about how the sport has evolved, but it's also a classy print that could fit in anywhere in your home.
Louisville Slugger Blue Flame Baseball & Softball Pitching Machine
For those looking to sharpen their batting skills, this pitching machine uses a lever system to shoot balls close to 45 piles per hour. And it's portable, meaning any place in the home becomes the ultimate makeshift batting cage.
The Sonder Shoppe Baseball Cuff Links
A small and sophisticated nod to your favorite sport when you can't dress up in your baseball jersey.
Putt-A-Bout Grassroots Par Three Putting Green
For those who are yearning to bring the golf course home, here's your chance.
Wilson NFL "The Duke" Replica Football
It's the same proportions as the ones your favorite football players used, which will make your loved one feel like the ultimate football hero when tossing around in the yard.
MD Sports Official Size 15mm 4-Piece Indoor Table Tennis
At official size proportions, this tennis table is foldable, making it super easy to create at-home ping pong games with a quick cleanup.
Bang Tidy Clothing Personalized Soccer Towel
If you're a person who prefers the sports from across the pond, why not rep your "football" club by showing their colors? Oh, and this allows you to add your own name and number to it, giving you a sense of personal and sports pride.
Ticket Stub Diary
Help him remember the best games he'll never forget with this cool diary specifically meant for ticket stubs.
Barrington Dartboard Cabinet
This cabinet comes with built-in storage, some LED lighting (in order to see better) and a scoreboard that is erasable, making it a fun and easy way to bring the game of darts home.
NFL Game Used Uniform Wallet
uncommongoods.com
$210.00
This wallet, with authentic jerseys for dividers, is a sophisticated and functional way to rep your team without flashing it to everyone.
MD Sports 3-In-1 Combo Pool, Hockey & Foosball Table
It's all your favorite arcade games rolled into one table—perfect for keeping your sports fan happy while also not taking up so much space.
Sports Fan Mug
It might be funny, but be prepared for the segue into your sports fan's favorite team.
Football Greatest Plays Coasters
The perfect present for someone who loves to drink and reminisce the best plays in the NFL.
This content is created and maintained by a third party, and imported onto this page to help users provide their email addresses. You may be able to find more information about this and similar content at piano.io