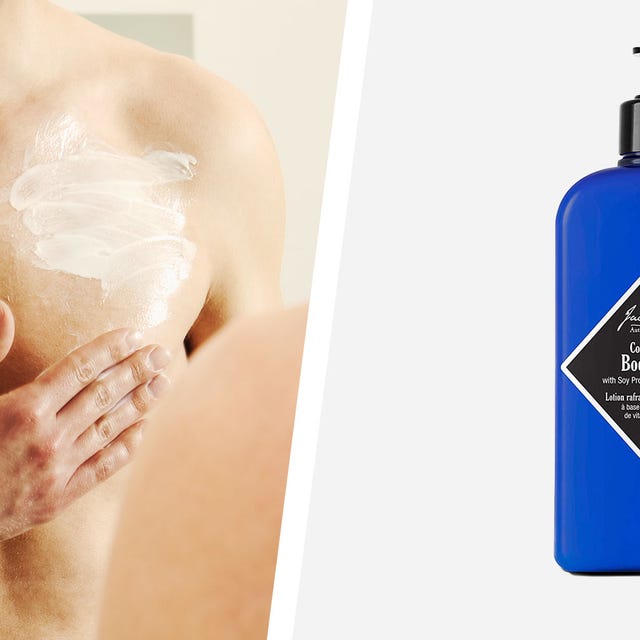 Getty/ Jack Black
Dry skin is never afraid to make its presence known during the transitional weather this time of year. But rather than just surrendering to those sandpaper patches that feel (and look) like a nightmare yet again, it's time to do something about it with a top-notch body lotion. After all, you work hard on the rest of your grooming regime —hair, beard, and so on—so it's time to give your skin (ahem, the largest organ on your body) the treatment it actually deserves.
But we get it, with the onslaught of options out there, finding a body lotion that actually absorbs well for a non-greasy finish and doesn't have a feminine scent (which probably turned you off from the product in the first place) is often easier said than done.
To save you from Googling furiously in the drugstore aisle, we put together a list of the best men's body lotions right here. While they range in ingredients and principles, all of these hard-working products will do what they promise when applied liberally to your arms, hands, legs, and feet post-shower after a towel dry to absorb and lock in moisture.
With that, try one of these top 15 men's body lotions for the smooth and hydrated skin you've always deserved.
Advertisement – Continue Reading Below
La Roche-Posay Lipikar Body Lotion
Shea butter, glycerin, and niacinamide provide a triple threat of hydration to help your skin feel silky smooth with a lightweight formula. It's a prime choice for normal, dry, and sensitive skin, as well as a suitable option for babies older than six months.
C.O. Bigelow Lotio Mentholus
Lavender, peppermint, lemon, and rosemary oils provide a natural, calming scent equation that smells unbelievably excellent. The old-school apothecary brand has always been a trusted source for stellar skincare offerings and this body lotion is now exception.
Brickell Men's Deep Moisture Body Lotion
Brickell Men's Products
amazon.com
$25.00
Revitalize those problem areas like elbows and knees with all-natural, fast-absorbing lotion made up of 80% organic ingredients, including green tea, aloe vera, jojoba oil, and vitamin E.
Kiehl's Creme de Corps Body Lotion for Men
Kiehl's
kiehls.com
$30.00
You can just call this one the miracle worker for wildly-cracked skin. Apply just a tiny amount of this creamy hydrating lotion after your shower to feel the results of silky-soft skin from the unique mixture of cocoa butter, squalane, and beta-carotene.
Vaseline Men's Extra Strength Body Lotion
Vaseline
amazon.com
$15.39
As one of Amazon's top choices, this superstar lotion will give you the extra strength you need to combat crazy-cracked skin. Claiming to heal problem areas in just five days thanks to micro-drops of Vaseline jelly, it absorbs quickly into the skin for a non-greasy finish.
Jack Black Men's Cool Moisture Body Lotion
Jack Black
amazon.com
$30.00
Cool down after that sweat sesh with this Jack Black lotion that has ingredients like vitamin E, jojoba oil, and most noteworthy, menthol to soothe overheated and dry skin.
Lubriderm Men's 3-In-1 Unscented Body Lotion
Lubriderm
amazon.com
$6.96
For those simple dudes that don't want to mess around with a cabinet full of products, this inexpensive 3-in-1 pick is for you. With an aloe-enriched base, it soothes your skin while moisturizing to restore health in your body, face, and post-shave. Triple-the-action for under $7? It's already like a done deal.
Le Labo Santal 33 Hand & Body Lotion
If you've heard of Le Labo, Santal 33 is most likely the reason why. The intoxicating scent of woody, warm, powdery scent of amazingness has been a best-seller that can make any price-conscious man splurge without care. Yes, it smells that amazing, and in body-lotion form, every inch of your skin can absorb the heavenly scent.
Gold Bond Men's Everyday Essentials Body Lotion
Gold Bond
amazon.com
$5.69
It's not just the affordable price tag that makes this everyday essential a winner. Comprised of seven different moisturizers that are mixed to perfection, it lasts up to 24 hours after applying to keep your skin nourished all day long.
Hemoz Pure Herbal Extract Body Lotion for Men
Enriched with natural hemp seed oil, along with shea butter and vitamins A, C, and E, this paraben-free vegan lotion has a 4.3-star review on Amazon because it actually works to clam and nourish the skin, and will also reduce any sort of redness or inflammation.
CeraVe Daily Moisturizing Body Lotion for Men
Developed by dermatologists, CeraVe's Daily Moisturizing Lotion was designed to simply get the job done by providing 24-hour relief from your dry, itchy skin. It's also oil fragrance-free for those of you looking for a product that's a bit more discreet.
Malin + Goetz Rum Body Lotion for Men
Malin + Goetz
nordstrom.com
$35.00
Light in weight yet heavy-duty in results, it just takes a small amount of Malin Goetz's popular quick-absorbing lotion to soften your skin thanks to a natural mix of pro-vitamin B5, essential fatty acids, and allantoin. The luxurious masculine scent also sets this staple apart from the rest.
EveryOne Lotion 3-In-1 Cedar and Citrus Body Lotion for Men
EveryOne Soap
amazon.com
$29.99
Don't let the 3-in-1 design fool you, this EveryOne lotion doesn't compromise on efficacy. Using nutrient-rich plant extracts and Vitamin E, it works triple-duty to soften your hands, face, and body moisturized. The cedar fragrance is is balanced with a hint of citrus for a gentle scent that's masculine and inviting.
Byredo Mojave Ghost Body Lotion
Byredo
nordstrom.com
$65.00
While the price tag may seem a bit intimidating for a body lotion, it's the heavenly woody scent with notes of musk and crisp amber you're really paying for. Byredo is known for creating some of the best fragrances out there, and the effective but subtle Mojave Ghost is one that's oh so worth it.
Eucerin Advanced Repair Dry Skin Body Lotion for Men
Restore your skin once and for all with Eucerin's Advanced Repair lotion that uses a Caramide-3 formula to help retain your own skin's moisture to hydrate and fight dryness all at once.
Advertisement – Continue Reading Below