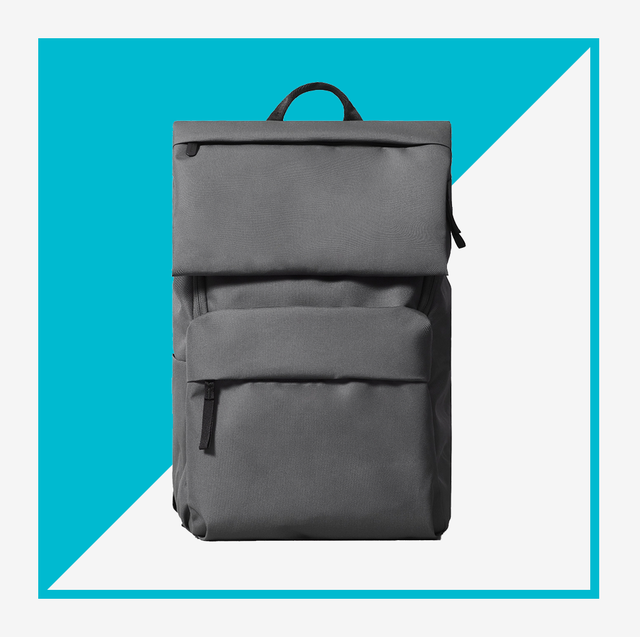 Assorted retailers
It's a little bit ironic that the rise of remote work happened during a time when most people are being told to stay inside and avoid traveling due to the ongoing coronavirus pandemic, but that's just what the world looks like in 2020. If there's anything that this year has taught us, it's that we should be able to adapt our environments—whether it's a bedroom or the living room at your parent's house in the suburbs—to become workspaces at a moment's notice. The office is no longer a physical space as much as a state of mind. This is the future of work and it's extremely versatile—and it requires a laptop bag.
Since we seem to be evolving past the need for an actual office, your new workspace is basically anywhere you can set up your laptop. With this in mind, keeping your laptop protected no matter where you're headed should be a top priority. That's why we compiled a list of the best laptop cases, backpacks, briefcases, and messenger bags. Whether you're the type of worker who is always on Zoom calls in airports or the one who is escaping to the woods for a writing retreat, we have you and your computer covered.
Check out the 15 best laptop bags for men to keep their pricey devices safe, wherever you travel.
1 of 15
Lululemon Command The Day Backpack 24L
Designed with an active lifestyle in mind, this water-resistant bag is loaded with extra pockets to carry everything from your portable electronics to protein bars and a water bottle.
2 of 15
Cole Haan GRANDSERIES Leather Attache
If you want a classic look, then look no further than this brown pebbled leather number. With a split zipper and adjustable strap embellished with a leather shoulder strap pad, this bag has you covered.
3 of 15
Everlane The ReNew Transit Backpack
Minimal and functional, this airport-friendly backpack features multiple pockets for your laptop and files and a pass-through strap that lets it attach to rolling luggage.
4 of 15
Vessel Large Laptop Sleeve
This simple and timeless case is a seamless option to carry your laptop. The interior is padded for extra protection, while the outside features a pocket for additional storage.
5 of 15
Troubadour Adventure Pathfinder Canvas Briefcase
matchesfashion.com
$375.00
The best part about this briefcase is the fact that the vegetable-tanned leather will develop a unique patina and appearance over time that'll give it a nice vintage charm while carrying your tech goods.
6 of 15
Herschel Supply co. Spokane Sleeve
Herschel remains one of the best brands for modern travel goods. This slim laptop sleeve (available in multiple colorways and prints) is lined with fleece and features a magnetic closure for maximum convenience.
7 of 15
Incase Compact Sleeve w/BIONIC® 16-inch
Focusing on sustainability, this portable sleeve is made out of a new material composed of plastic found in the ocean—one bag reportedly equals seven bottles recovered from the water.
8 of 15
Shinola Computer Briefcase
This tanned leather case combines vintage appeal with modern organization, resulting in major Indiana Jones vibes.
9 of 15
Côte & Ciel Black Isar M Backpack
Equipped with cushioned shoulder straps, a padded laptop pocket, and other subtle storage compartments, this twill backpack is another edgy option to carry your gear in style.
10 of 15
Gramicci Nylon Tote
The lightweight nylon fabric enables this bag to be folded neatly for easy storage ,while the adjustable webbing straps ensure easy weight distribution. It's a win-win.
11 of 15
Calvin Klein Tech Nylon Weekender Bag
For a quick trip, this leather bag is a carry-all option for your laptop, as well as your personal goods. Fully-lined with multiple pockets, this piece is a perfect option for a weekend getaway.
13 of 15
Want Les Essentiels Havel ECONYL Utility Tote
wantapothecary.com
$325.00
Utility is the name of the game with this ultra-compact and lightweight tote made out of recycled nylon. As a bonus feature, the interior is lined with two laptop pockets for work and play.
14 of 15
Montblanc Extreme 2.0 Laptop Case
An extra-sturdy calfskin laptop case is proof that you can never go wrong with leather. Plus, it features a detachable strap to transform into a compact messenger bag.
15 of 15
Stone Island Black Nylon Laptop Pouch
With a crushed texture exterior and asymmetrical zippers, this is an edgier-looking accessory that still provides your electronics with ultimate protection.
Advertisement – Continue Reading Below
This content is created and maintained by a third party, and imported onto this page to help users provide their email addresses. You may be able to find more information about this and similar content at piano.io