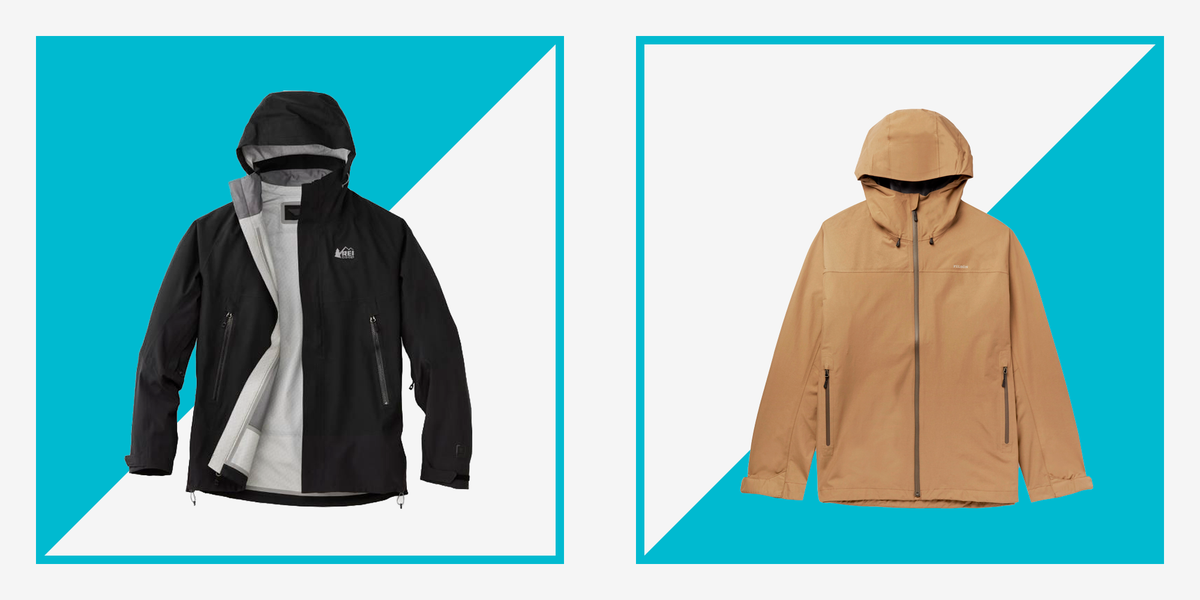 When it comes to outerwear that no person can be without, a rain jacket is at the top of that list. It is both functional and protective, making sure your clothes stay clean and dry in the midst of a rainstorm at any point in the year. That's the thing about rain: No season has a monopoly on it. In contrast to something like a winter jacket—essential but only during a select time of the year—you very well may need a rain jacket at any time. It is best to be armed with something well-made before it's too late.
We did the heavy lifting on that rain jacket research for you. Maybe you need something breathable that you can wear in the warm weather or a durable but airy jacket you can wear on a hike. You might need heavy duty protection or you might be able to get away with something more water-resistant than waterproof. Or, maybe you're looking for something that doesn't look goofy if you wear it over work clothes. Here are 14 of the best rain jackets to buy now for any time of year.
Everlane The ReNew Storm Jacket
Everlane low-key makes some very good jackets, including this Storm one. It's made from 100% recycled polyester and is seam-sealed so no droplets slip through. Plus, the boxy shape lets some airflow in.
Mack Weldon Stormchaser Jacket
This is a rain jacket that doesn't absolutely scream rain jacket. The easy shape but simple material means you can wear it to work, too, without looking like you're going on an outdoor expedition.
J.Crew Brunswick Rain Jacket
J.Crew's rain jacket is waterproof, of course, but it's also made with a stretch fabric—a welcome detail for those accustomed to old-school stuffy rain coats.
REI Talusphere Rain Jacket
But if you are going on an outdoor expedition, you better dress for it. REI's rain jacket is waterproof, windproof, and outfitted with venting strips to keep you from overheating on the move.
Adidas Consortium SPEZIAL Standish Anorak
Adidas Consortium pieces are downright cool, and this blue anorak is no exception. If you're looking for something practical that doesn't sacrifice on good style, this is it.
Filson Swiftwater Shell Jacket
Filson shell jacket is simple, effective, and good-looking. The classic shape works just as well in nature as it does in the city.
Marmot EVODry Kingston Jacket
If you have never had a longer hemmed jacket that is meant to weatherproof your outfit, let this be your first purchase. It keeps so much more surface area of your body dry.
Zanella Raincoat
Going to work in the rain is perhaps one of the most necessary times for a solid rain gear. This Zanella has a classic raincoat shape that looks solid over a suit.
L.L.Bean H2Off Rain Jacket
L.L.Bean makes products for durable, long-lasting wear, and this jacket will serve you for many rainstorms to come. It works as a shell for warmer days but you can also layer with a midlayer when needed.
Heron Preston Techno Raincoat
heronpreston.com
Heron Preston takes the cake when it comes to crafting stylish, waterproof jackets. This coat is expertly made, perfectly long, and has just the right amount of stylish detailing on the arm to make it feel special.
Patagonia Torrentshell Packable Waterproof Jacket
Having to wear a rain jacket in the summer is not exactly idea but it happens—and it's best to stick with Patagonia's take when it does. This classic packable jacket is as lightweight and protective as you can get.
Lululemon Precipitation Jacket
Lululemon's jackets are also a very good sleeper hit. This one is lightweight enough to wear in warm weather because of its stellar breathability. This one is great for throwing in your bag when it may or may not rain.
The North Face Dryzzle Futurelight Jacket
The North Face makes some of the best waterproof material for jackets: Futurelight. Futurelight is the membrane that keeps airflow coming in without letting in the wet.
Arc'Teryx Solano Full Zip Jacket
Arc'Teryx jackets are meant to last a lifetime, so if you're looking for a longterm rain jacket, let it be this one. It uses Gore-Tex protection, arguably the best waterproof material on the market.
This content is created and maintained by a third party, and imported onto this page to help users provide their email addresses. You may be able to find more information about this and similar content at piano.io