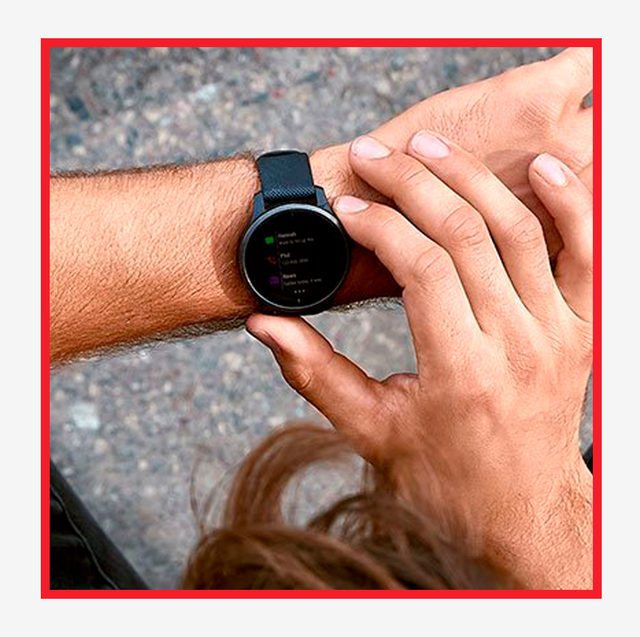 Garmin
Like a timeless pair of shoes or a smooth signature scent, a man's watch reveals much about him. In today's connected world, smartwatches have become the new alternative to family heirloom timepieces. With the variety of smartwatch options on the market today, with a little research, you can rest assured that you'll maximize your investment and shatter your health, fitness and productivity goals.
From Swiss chronograph-inspired timepieces to rugged outdoor performance options, there's a smartwatch for every guy, and every occasion. So, how's a guy to choose?
Start by deciding how you'll use your smartwatch. Are you Android or iPhone-loyal? Most smartwatches need to be paired with your smartphone and will run on the same operating system (OS). For Android users, Wear OS by Google boasts Google Assistant, Google Pay, and access to a selection of apps on the Google Play app store. iOS loyalists can expect watchOS 7 to deliver the latest health, fitness and productivity tools, complete with access to Apple's app store. Keep in mind that while smartwatches can do almost anything your smartphone can, the only disadvantage is that they have not yet evolved to fully replace smartphones.
To help you weigh your options, we've listed some of the best smartwatches for men to invest in now.
Advertisement – Continue Reading Below
Amazfit Bip Smartwatch by Huami
The best inexpensive smartwatch that lives up to the challenge. Amazfit delivers 30 days of battery life with regular use, and up to 45 days with minimal notifications. Fortified with Gorilla glass, the bright screen pops and allows for easy reading of emails, text messages, calls, and app notifications. Tune into your health and wellness vitals with sleep tracking, an optical heart rate sensor and more. Monitor the speed, time, pace, stride length and calorie burn of your favorite at-home and in-gym workout routines.
Garmin Vivoactive 4 GPS Smartwatch
amazon.com
$349.99
$289.88 (17% off)
Crafted for guys with wanderlust and a need for constant adventure, the Garmin Vivoactive 4 doesn't disappoint. Available in two sizes (40mm and 45mm) along with multiple finishes, the Vivoactive 4 fits in wherever life may take you. It's time to upgrade your at-home workout routine. Take on the latest challenge with animated workouts for strength training, cardio and relaxing yoga. You're set with enough juice to last you a week—enjoy battery life up to eight days in smartwatch mode.
Fitbit Versa 2 Smartwatch
Track your workout progress and meet your goals with five days-worth of battery life. The new Versa 2 follows the previous Fitbit Versa and features all the tools you need to go the next level. Top features include Amazon Alexa and Fitbit Pay, 24/7 heart rate tracking, on-screen workouts, as well as sleep tracking. Versa 2's design elements also shine with modern, rounded edges, polished glass, an aluminum finish and curved casing.
Fossil Gen 5 Smartwatch
The ultimate everyday smartwatch, the Fossil Gen 5 delivers 24 hours of battery life with four battery modes. Don't worry about slow charge times when you're on the move. Charge right back up with a 50 minute charge time to 80 percent battery. The clear 44mm case brightly displays essential notifications like Google Pay, heart rate activity tracking, and more. Answer calls right on your Gen 5 when you've paired your smartphone and Gen 5 on Bluetooth. The Gen 5 is compatible with Android and iOS phones.
Suunto 7, GPS Sport Smartwatch with Wear OS by Google
The Suunto 7 is rugged and made to perform. Track your heart rate, discover offline heatmaps, and challenge yourself with over 70 sport modes. Expect battery life that can last with up to 18 hours of device use and up to four hours of outdoor workouts. Sleek but built to last, the shock and waterproof Gorilla glass watch face eliminates dirt and scratches, while its stainless steel bezel adds a handsome, durable touch. Sending text messages is easy via voice, keyboard, or pre-written options. The Suunto 7 is compatible with Android and iOS phones.
Apple Watch Series 5 (GPS + Cellular, 44mm)
If you're an Apple-loyalist, the Apple Watch Series 5 is worth it. With its bright always-on Retina display, the Series 5 is lightweight, durable, and available in a variety of finishes, including an all-new titanium case. You can send and receive messages right on your Series 5 and stay on the grind with reliable 18-hour battery life. Series 5 helps you discover your path with new location features including a built-in compass and elevation monitor. The new international emergency calling feature allows you to call emergency services directly from your Series 5, even without your iPhone nearby.
Mobvoi TicWatch Pro 4G/LTE Smartwatch
The second generation of the Mobvoi TicWatch Pro, the TicWatch Pro 4G/LTE features smartphone-free connectivity. Not in the same area as your smartphone? No problem. Send or receive voice calls or SMS messages and seamlessly receive app notifications from your smartphone—all without being tied to Bluetooth or Wi-Fi. Wear it and forget about charging. The TicWatch Pro 4G/LTE allows you to switch from 'smart mode' to a power saving mode that extends the battery life from two days to up to 30 days.
Movado Bold Connect 2.0 Smartwatch
Strap on a mix of modern design and tactical innovation with the Movado Bold Connect 2.0, which features Google Pay, Google Fit, advanced activity tracking, and more. The style is available in sizes 40mm and 42mm, and features practical, understated luxury. Calls, text messages, emails, and apps show up on a crystal-clear, well-built screen. You can feel confident staying the course with two to four-days of battery life.
Montblanc Summit 2 Smartwatch
Stay connected on the go with battery life that lasts up to one week. Montblanc lives up to its refined design elements and Summit 2 features over 1,000 watch face combinations, all housed inside a 42mm case. Tap into a toolbox of heart rate, altimeter, accelerometer, and jet lag monitoring to ensure you make the most out of your personal fitness and leisure goals. Summit 2 is compatible with Apple and Android smartphones, and by connecting to Wear OS, you can stay connected even when you're away from your smartphone.
TAG Heuer Connected Modular 45mm Smartwatch
Here's a splurge you won't feel guilty about. Crafted with scratch-resistant sapphire crystal and refined design details, the TAG Heuer Connected smartwatch is powered by Wear OS and features a custom-built sports tracking app with GPS and heart rate sensors to serve as your go-to for everything from golf and running, to at-home workouts. Pair with your smartphone to receive calls, SMS messages, and email notifications. Need more color? Check out the new summer-inspired edition of the TAG Heuer Connected.
This content is created and maintained by a third party, and imported onto this page to help users provide their email addresses. You may be able to find more information about this and similar content at piano.io
Advertisement – Continue Reading Below