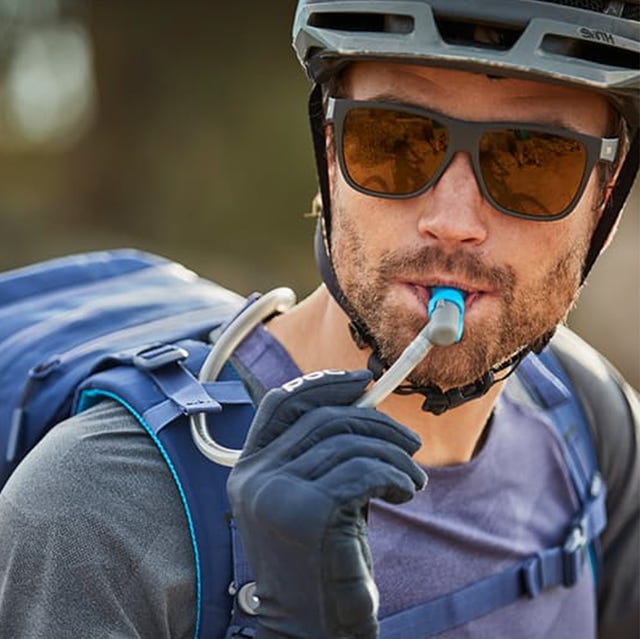 Huckberry
If you've ever fumbled around trying to grab your water bottle on a long bike ride, or dealt with the annoyance of carrying a bottle in your hands on a long run, know there's a much easier way to stay hydrated.
For outdoor adventures, consider a hydration pack your most essential accessory. By essentially embedding your water supply into a backpack or vest, and drinking via an easy-to-access tube, you leave your hands free and your concentration solely on the activity at hand.
Backpack versions of hydration packs are perfect for hikes, bike rides, and snowboarding or skiing. They allow room to pack other gear like snacks, phone, keys, even a fresh t-shirt or socks.
Vests, on the other hand, can simplify the conundrum of long runs, when you need to rehydrate but want to keep your hands free and can't deal with a backpack bouncing around. They have less storage than a backpack, but always enough room for at least stowing a smartphone.
Fill up the water flask with ice water pre-workout or adventure and look for a model that promises to keep your beverage chilled if you're battling hot temperatures.
Hydration packs are so convenient that you might consider sporting one for a summer music festival or a pick-up basketball game outside with the boys. It's all about concentrating more on your favorite activities and less on where to stash all your stuff.
Check out the 10 best hydration packs for biking, running, skiing, or even outdoor concert-going, from the heavy-duty to the lightweight budget options.
Advertisement – Continue Reading Below
Best Hydration Pack for Mountain Biking
Hydro Flask Hydration Pack 20L
Meant for all-day adventures, this Hydro Flask model is one of the best hydration packs for mountain biking or heavy-duty hiking. The pack itself is roomy so you can fit plenty of gear in addition to your water, which will stay chilled for up to four hours.
Best Budget Hydration Pack
Kuyou Hydration Pack Water Rucksack Backpack
If you're new to the hydration pack game, this super affordable pick will let you experience the best of having a constant water source, without handing over too many hard-earned dollars. Its small size is great for a run or even rock climbing.
Vibrelli Hydration Pack & 2L Hydration Water Bladder
A fantastic budget option, this hydration pack weighs under a pound, perfect for throwing on without a second thought for an unencumbered day on the slopes. The mouthpiece is leak-proof, with a valve you can lock to ensure a drip-free ski run.
Best Hydration Pack for Running
UltrAspire Momentum Hydration Vest
For the best hydration pack for running, look no further than this vest version. It's lighter than a backpack and sits closer to the body for total comfort and mobility. Plus, there's still room to stash some gels and a smartphone.
Osprey Packs Raptor 10L Backpack
The Raptor has a special helmet attachment point for easy access while crushing some mileage, or just keeping you hydrated on your daily commute in the bike lane. The hipbelt keeps your pack securely in place, but don't fear sweat, because the whole pack is designed to be breathable.
Best Hydration Pack for Festivals
CamelBak Ratchet Crux Reservoir Hydration Pack
The compact size of this backpack makes it ideal for daily use when you don't feel like lugging around a bunch of gear. When you want to stay pared down to the essentials at a music festival, this is the best pack for you. Plus, according to the makers, the drinking valve offers more water per sip than your standard hydration flask.
Best Hydration Pack for Travel
The North Face Flyweight Pack
Let's say you're taking a few weeks to sightsee in Europe (lucky you). You'd do well to travel light, be nimble and stay ready for wherever the day takes you. This hydration pack is designed to be packable, so when you've exhausted your water supply during that super-hot day trip in Tuscany, just fold it down and stow it in your pocket.
Amphipod PureRun Minimalist 24 Hydration Vest
Struggling to run with a heavy backpack? A hydration vest can help quench your thirst, without weighing you down. This one is ultra-light with ergonomically crafted Hydraform flasks to mold to your body. It only holds two liters, because drinking too much on an intense run will only slow you down with a dreaded side ache.
Osprey Syncro 12 Mountain Biking Pack
This rugged pack is good for all-terrains and all weather, featuring a raincover, plus lots of ventilation. The magnetic sternum strap means a fresh drink of water is always conveniently at the ready.
Columbia Muir Creek II 6L Hydration Pack
This daypack from Columbia checks all the boxes: lots of storage space while still being lightweight, with adjustable straps for the perfect fit and a quality bite valve. It also has some extras that the avid hiker will appreciate, like reflective safety accents and even a rescue whistle on the sternum strap.
Advertisement – Continue Reading Below