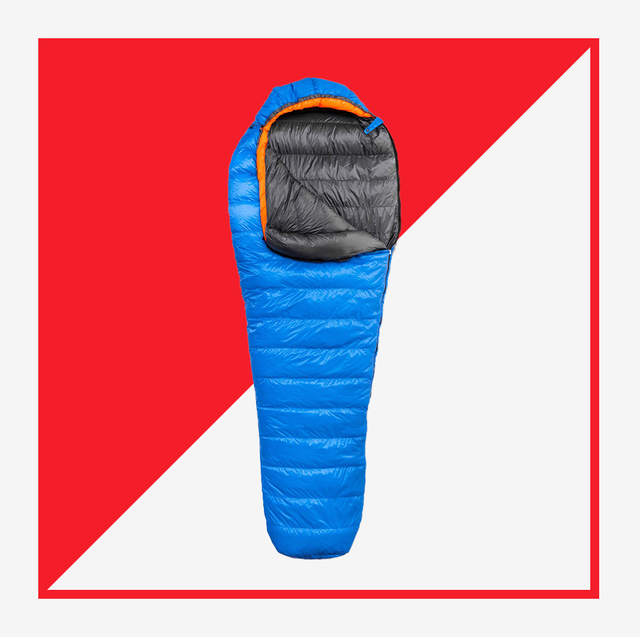 Feathered Friends; Getty
There's nothing like the memories you make getting away from daily life and embracing the beauty of nature on a camping trip.Take it from any camping aficionado—the further you delve into nature the more magical the experience. So while sleeping under the stars with a bunch of friends at a designated campground next to an army of SUVs can be a blast, it's not necessarily conducive to truly escaping modern life and dialing it back to the essentials. Backpacking, i.e. hiking to the perfect location to pitch a tent and marvel at your surroundings, carrying everything you need with you, is the perfect way to really commune with the great outdoors.
If you're intrigued by the idea of hitting the trail instead of the road, but haven't backpacked before or could use a little refresher on what to pack, remember that choosing items based on weight is key. The items that will generally be the heaviest to carry in your pack are your tent, sleeping pad and sleeping bag, so the rule of thumb is to select the lightest sleeping bag you can get away with.
A good weight for a backpacking sleeping bag is under or around 3 lb., or even under 2 lb. for the ultimate in streamlined packing. The other characteristics that will factor into selecting the best sleeping bag for camping are warmth and shape. All sleeping bags will list a temperature denoting the coldest temperature they're designed to withstand, though you'll generally be more comfortable if you opt for a bag with a listed temperature about 10 degrees cooler than the weather you're expecting.
The shape of the bag affects the warmth as well. Mummy, or super-fitted styles, are great for trapping body heat and a must for chilly night temperatures, while a classic, rectangular quilt version is better suited to warmer nights.
Backpacking isn't a weightlifting competition, so no matter how great of shape you're in, remember that lighter is better, and try to reserve your energy for swimming in pristine lakes and climbing breathtaking vistas, rather than carrying a super heavy pack.
Prices can vary a lot depending on different styles and materials, but we've included some of the best backpack sleeping bags for any budget in our list of favorites, so that you have no excuse to consider spending next weekend inside.
Advertisement – Continue Reading Below
REI Co-op Magma 15 Sleeping Bag
REI sleeping bags are fan favorites, and this one hits just the right balance between weight and warmth, ranking as one of the lightest, warmest sleeping bags. It's approved for temperatures dropping as low as 15 degrees, and its fitted silhouette will help make the most of your body heat. It's also ultralight and packable, delivering the best of both worlds.
Field & Stream Recreational 50° F Sleeping Bag
dickssportinggoods.com
$29.99
The impromptu camping trip is this weekend and you and your group of five friends need some sleeping al fresco digs. Look no further than this ultra-cheap quilt style, one of the best backpacking sleeping bags under $100. It's single layer, meaning it's lightweight and great for warm weather, and can even be unzipped and attached to another of its kind for extra roominess.
Nemo Equipment Mens 35 Reg Sleeping Bag
Nemo sleeping bags provide a great won't-break-the-bank place to lay your head at night, ideal if you're new to camping. A mummy or fitted sleeping bag, this one was especially designed to provide enough room for side sleepers to rest comfortably. It's not down-filled, hence the budget price, but it features a synthetic alternative that Nemo claims is just as effective at trapping heat. It's much loved by outdoor enthusiasts.
Enlightened Equipment Revelation Sleeping Bag
enlightenedequipment.com
$280.00
While mummy sleeping bags are ideal for fighting off chilly nights, a classic quilt style really shines in the summer when you want to unzip to enjoy the night air. This version is like a hybrid between the two, allowing you to open it up like a blanket when it's hot, or cinch it up close to your body courtesy of an adjustable zipper footbox when it's cold. It's packed with 850-fill down.
Western Mountaineering Puma Super MF Sleeping Bag
For the mountain lover who knows backpacking is an all-season sport, look no further than the Puma Super MF from Western Mountaineering. It's one of the best 0 degree sleeping bags, with its performance approved for temperatures down to a seriously frigid -25 degrees. A cozy mummy style with 850-fill down insulates, while a water-resistant shell combats moisture and frost.
Oaskys Camping Sleeping Bag
When it comes to gear, it's easy to go crazy shopping, so budget items come in handy, particularly if you're a first-timer loading up on all the basics. This unfussy sleeping bag is suited for warmer months, even allowing you to unzip the feet section to cool down. It's one of the not as lightweight as most of the items on our list, but makes up for it with price, and is one of the best backpacking sleeping bags under $100 to be found.
Marmot Nanowave 45 Sleeping Bag
Our pick for best ultralight sleeping bag under $100, the Marmot Nanowave is super packable and space saving, a must for your next backpacking adventure. It's crafted in synthetic-but-high-quality spirafill for solid warming when it's cold, and it totally unzips to become a breathable blanket when warm.
Big Agnes Lost Dog 15 Sleeping Bag
Pairing a sleeping bag with sleeping pad is key to comfort so you can get the rest you deserve, even when sleeping on the ground. This sleeping bag comes equipped with a special sleeve, like a fitted bedsheet, so you'll stay connected to the pad all night, without risking rolling off. Why didn't we think of that? The synthetic down is completed recycled.
Kelty Tuck 22F Degree Mummy Sleeping Bag
Despite its wallet-friendly price, the Kelty Tuck sleeping bag boasts lots of great features, like a zipper draft tube to keep outside air from making its way into your bed-away-from-bed. A thermal comfort hood also helps you retain body heat on cold nights.
Hummingbird UL 20/30 Sleeping Bag
featheredfriends.com
$509.00
With 950-fill power down, this Hummingbird sleeping bag is made to provide superior warmth at the lightest weight possible. It's water-resistant but breathable, and available in 20 degree and 30 degree versions. Take your pick based on your desired backpacking climate. Taken care of properly, this technical sleeping bag will last for years.
This content is created and maintained by a third party, and imported onto this page to help users provide their email addresses. You may be able to find more information about this and similar content at piano.io
Advertisement – Continue Reading Below