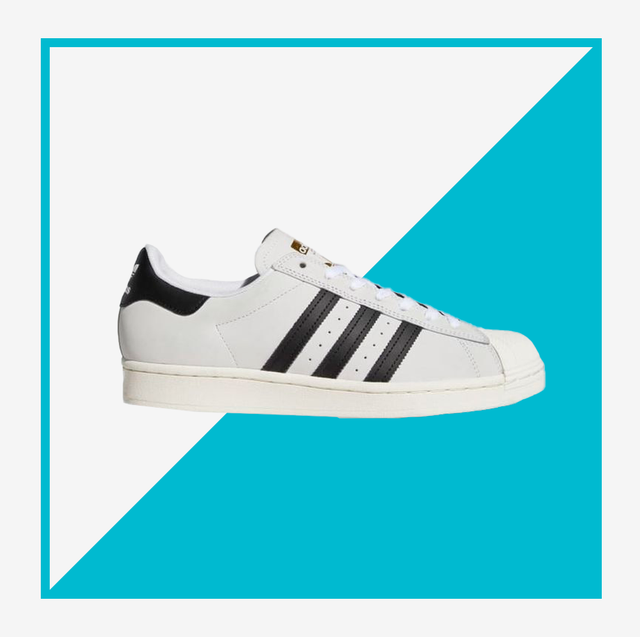 Adidas
Self-isolation has nothing on Memorial Day sales on the internet, and we are happy to reap the benefits. Especially when that sale comes from one of the brands that we buy full price year round anyway: Adidas. Adidas is having a major sale for the holiday weekend, marking items up to 50 percent off. Among those very good items? Some very good sneakers.
Where as some brands and items you might buy on sale just because they're cheaper, with Adidas, you're not skimping on quality in the slightest. They marked down some of our favorite shoes just because. We're talking everything from all-white Stan Smiths—which, if you don't own already, now is the time to scoop—to NMDs. It's really the perfect time to grab a pair (or two) that helps round out your wardrobe.
In the market for workout-specific sneaks? Adidas marked those down, too. There are bright white golf sneaks, fit for some socially distance rounds in the coming weekends. There are the classic Adipower weightlifting sneakers that keep your feet secure and your form in check. And, of course, there's a whole host of running sneakers for those (safely done) outdoor jogs, walks, and walks around the block. These are our 10 favorite on-sale sneakers to buy right now.
Advertisement – Continue Reading Below
Adidas Stan Smith Shoes
adidas.com
$80
$64
OK, well if you're going to go for any white sneaker, you can really never go wrong with a Stan Smith. And in all white, these look good with trunks, jeans, and even suits, should you ever have to wear one again.
Adidas Superstar Shoes
adidas.com
$80
$64
It's always kind of fun to get a new sneaker for a new season, and we would suggest these Superstars for summer. They are a familiar shape, but in a cool color combination.
Adidas Swift Run Shoes
adidas.com
$85
$68
You know Adidas wouldn't put a sale on sneakers without getting in some good running ones. This is a favorite for quick runs.
Adidas Solarboost 19 Shoes
adidas.com
$140
$112
More of a long distance kind of runner? Solarboosts are made with a reinforced upper for maximum support, and cushioning that gives you a bit of boost back.
Adidas NMD_R1 Shoes
adidas.com
$130
$104
If you're looking to expand your Adidas sneaker exposure, NMDs are a good place to start. They have a super athletic look but they're a favorite for casual style. We'd recommend them for those mental break walks.
Adidas CodeChaos Golf Shoes
adidas.com
$150
$135
Golfing is one of those activities that might actually have some availability this summer, and it's worth celebrating with a fresh pair of shoes to go with. These are light, spikeless, and stylish.
Adidas Adipower Weightlifting 2 Shoes
adidas.com
$170
$85
For the serious weightlifter, it's worth finding your perfect lifting sneaker for optimal training. The lace and strap combination keeps your midfoot in tight and the forefront is super stretchy for flexibility.
Adidas Continental 80 Shoes
adidas.com
$80
$64
Adidas Continentals are the perfect warm weather shoe and nothing will convince us otherwise. They're simple, cool, and just a little bit different than everything else we own.
Adidas Nizza Slip-On Shoes
adidas.com
$60
$36
White sneakers are hard to keep clean, and we're not above getting a fresh pair for the season. And at 36 bucks, we might get two.
Adidas Adilette Cloudfoam Slides
adidas.com
$25
$23
OK, fine. These are not sneakers. But Adidas slides are the perfect timeless sandals that don't look dorky and are perfect for pooling, beaching, and walking the dog. You'll wear them forever.
This content is created and maintained by a third party, and imported onto this page to help users provide their email addresses. You may be able to find more information about this and similar content at piano.io
Advertisement – Continue Reading Below