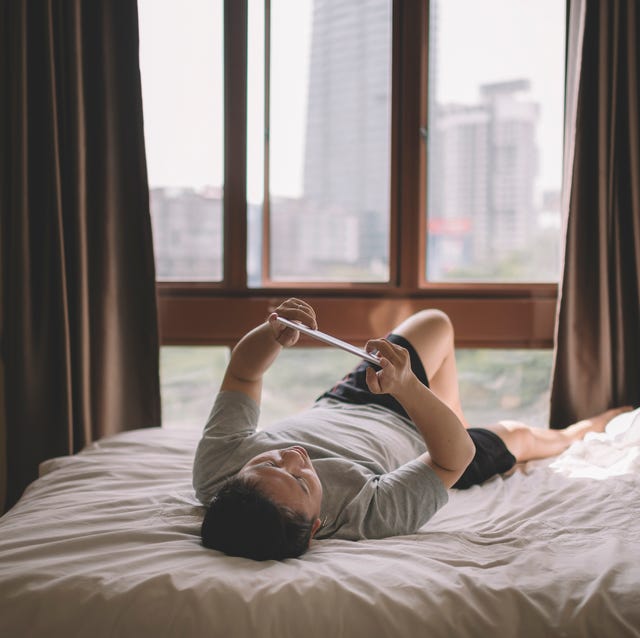 chee gin tanGetty Images
FaceTime sex (or Skype or Signal or Google Hangouts or, hell, even Zoom sex) will never be the glory that is face-to-face, skin-to-skin, in-person fuckery, but for a lot of us right now, it's the only sex that's gonna be happening.
But it's a good thing that FaceTime sex can be hot AF. Seriously. It is a great chance to explore fantasies, let out your inner voyeur/exhibitionist, and get super real about what turns you on. You can get your role-play on, submit to your partner's whims, and use whatever toys or props you want. (Yes, we should always be doing that anyway, but sometimes we don't and something about the physical separation of video sexting makes it a little easier, to be honest. Don't know why. It's mysterious, man.)
Advertisement – Continue Reading Below
1 The FaceTime Soak
If you feel shy or weird about just getting naked, start out with a bath together/apart. The nakedness is more organic and it can feel safer to have some of your body more hidden under the water or a pile of bubbles. Angle your computer on a chair next to the tub so it's pointing at you but not going anywhere. (And unplug that puppy and make sure you've got a full battery—being electrocuted in the tub like this is not the way to go!) Soak up, gradually taking it more hard-core. You can use just your soapy hand or a waterproof (important!) toy, or break out the handheld showerhead.
Shop Now Womanizer X Lovehoney Pro40 Rechargeable Clitoral Stimulator, $119, lovehoney.com
Shop Now Power Gem Rechargeable Vibrating Silicone Butt Plug, $45, lovehoney.com
2 The Private(s) Caller
If you're not into transmitting your O face or you just don't want to have your face and your junk in the same frame, have your genitals connect remotely. Get on your knees, prop your phone or laptop so it just shows your torso, and masturbate to the sight of each other. You'll still be able to hear each other's moans and you can stare at your partner's hand stroking themselves as much as you want.
3 The Online Date
Don't just have an orgasm and then sign off—have an actual date. Plan it ahead of time and talk a little over a drink or food. Strip for each other, taking your time and building anticipation. You can prop a phone or laptop by your knees, or ask your partner to get on all fours so you can imagine plunging into them. This is a next-level date night for all parties involved, trust us.
This content is created and maintained by a third party, and imported onto this page to help users provide their email addresses. You may be able to find more information about this and similar content at piano.io
Advertisement – Continue Reading Below