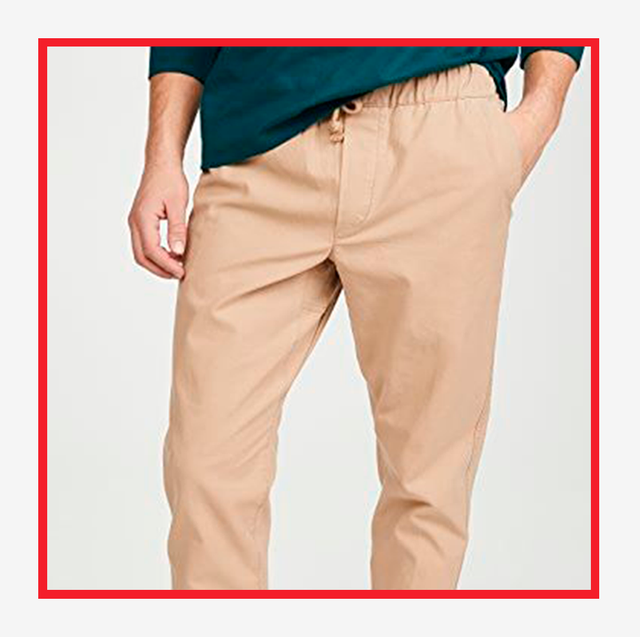 Assorted retailers
Listen, sweatpants have had a good run. A really good one! All of the people who have been working from home have finally gotten to explore what it means to work from the couch in comfy pants. And it was fun (really fun!) for about… two months. But as we transition back into working in the real world, it's about time our wardrobe starts transitioning, too.
We would not dare suggest you go straight back into wearing a suit every day. Hell, we are certainly not going to do that. But what we can do is dip into real clothes again easily. Start with something you've grown comfortable with—a drawstring—and other comfy elements like stretch, elastic, and colors that can get away with a few days wear at a time. (Thank you, black pants. You have done so much for us.)
The pants we are looking to invest in have those elements, but still look sharp. The athleisure game has been around long enough to finally get into the comfortable workwear clothes and we are ready for 'em. Plus, these drawstring pants look good. Trousers too tight? Suits need tailoring? Leave those guys in the back of the closet for now. These comfy workwear drawstring pants are fun to wear and look sharp as heck. Here are our 10 favorites.
Advertisement – Continue Reading Below
H&M Cotton Twill Joggers
If you're still working from your couch but you want to at least feel like your work hours pants are different from your TV hours pants, start with H&M. These cotton-twill joggers are a great beginner pair.
Vuori Ponto Slim Fit Jogger Pants
Vuori makes some of the smoothest fabrics around, and a full pant made with them is a delight to wear. These are the ultimate transition pant: They look like pants-pants but they feel like sweatpants.
Nike Dri-FIT Chino Pants
nordstrom.com
$45.00
Nike comes in clutch with its non-athletic gear, and these chinos are a prime example. They have a flattering fit, but still look damn good with a pair of sneakers.
Madewell Garment-Dyed Twill Drawstring Pants
On the other side of the sweatpant transition? Great. These twill pants look good with tees, button-fronts, and denim jackets. The drawstring looks more like a style statement than a comfort one.
Todd Snyder Knit Traveler Suit Pant
Leave it to Todd Snyder to develop a pant that is as comfortable as sweats but somehow looks good with a blazer. The cool waistband is an excellent detail executed with minimal effort.
Obey Traveler Slub Twill Pants
Whoever thought they'd miss khakis? For those who do, opt for a a khaki-colored twill pant with an elastic waist. Post-quarantine, they make a good pair of travel pants, too.
Polo Ralph Lauren Classic Athletic Pants
Ralph Lauren makes only clothes that are sharp and these pants are no different. Wear them with a tee or cool chambray shirt.
Wax London Alston Slim Fit Chinos
These are the kind of pants that pull double duty: They are great transitioning-to-real-life pants but you'll also wonder what you ever wore before them. Consider these as wearable as jeans.
AllSaints Luckett Linen Blend Cropped Pants
For those who are ready to lean into the drawstring look, these AllSaints cropped pants are damn cool. Wear them with light sweaters, hoodies, or leather jackets for cooler nights (and AC-heavy home offices).
Lululemon Bowline Jogger
It is impossible to talk about comfy and wearable pants without talking about Lululemon. These joggers were made for movement, but they don't feel sloppy in the slightest. Wear them all week long.
This content is created and maintained by a third party, and imported onto this page to help users provide their email addresses. You may be able to find more information about this and similar content at piano.io
Advertisement – Continue Reading Below